The Return on Investment Business Case for LED UV Curing in Sheetfed Offset Printing
Determine UV LED printing and curing benefits in Sheetfed Offset versus conventional oil-based printing, IR/Hot Air drying with aqueous coatings -- and compare and contrast LED curing with traditional forms of UV, High Wavelength H-type UV and Low Energy LE-type UV energy curing technologies.
In the process of working with numerous companies around the world on the case for adding UV and LED technology, AMS has developed a very thorough understanding of the return on investment (ROI) equation. LED UV printing in the sheetfed offset market has advanced rapidly and globally in the past several years - catching up with, and now even surpassing the performance of other forms of low energy (LE-type) and high wavelength or hybrid (H-type) UV curing. UV LED is now considered the fastest growing process technology for drying, protection and effects creation in the segment. Nonetheless, it remains important to understand how and if the benefits from UV LED translate into true gains for your offset printing operation.
LED Printing compared to Conventional Oil-based Printing
The following lays out the general structure of benefits typically seen from implementing LED for Sheetfed Offset Printers who are coming from a Conventional (Oil-based) printing operation with or without water-based coating:
LED Energy Cost Reduction over IR/Hot Air (typically 80%)
LED Reduction of Time and Cost Spent Dealing with Marking Issues
LED Elimination of Powder Contamination
LED Reduction and Re-use of Makeready Sheets
LED Reduction of Paper Consumption (perfecting presses)
LED Speed of Drying and Job Completion
LED Elimination of Water-based Coatings and Varnishing Costs
LED Reduction in Polymer Plates Consumption
LED Added Capabilities (higher value coatings, varnishes, substrates, effects, etc.)
LED Printing compared to Traditional UV, LE-UV, H-UV and HR-UV Printing
We hear it a lot from offset printers around the world... what's better, UV or LED? Are the newer, low-energy curing technologies marketed under names such as HW-UV, H-UV, HR-UV and LE-UV viable? Or are they just a bridge to LED?
AMS is one of the only companies with field-proven solutions, patented technology and production customers running ALL of the flavors of UV energy curing in the market today, including UV LED, and has a vested interest in seeing all of them succeed. We are therefore able to present a clear, side-by-side perspective on the costs and associated benefits from one form of UV energy drying to the next. Process and business goals differ at each printing company. Our goal is to help you make the best, most informed decision possible before investing.
The following benefits are generally available from LED UV solutions compared to traditional Standard UV interdeck and end-of-press curing solutions, as well as to the many new variants of High Wavelength Energy Curing Systems (alternatively called Low Energy, High Reactivity, Additive, or Hybrid UV printing):
LED Energy Cost Reduction over H- and LE- type UV systems (typically 50%) and UV (typically 80%)
LED Fewer Lamps Required compared to traditional UV systems
LED Lamp Uptime and Maintenance Savings
LED Heat Reduction and Related Issues Savings
LED Paper Moisture Retention Savings
LED Instant ON/OFF and Wash-up Cycle Operational Savings
LED Mercury Risk Avoidance and Disposal Elimination
LED Elimination of Ozone Smell and Hazards
LED Bulb Cost Savings compared to UV (2,000 hrs) / LE-type and H-type UV (650 hrs) Replacement*
LED Speed of Installation and LOW UV Preparation Required
LED Ink Cost Savings over LE-type and H-type UV (not controlled by a single vendor)
LED Affordability (lower investment cost than LE-type and H-type UV systems, and even traditional UV systems depending on the configuration)
* H-type UV systems and LE-type UV systems utilize Mercury lamps with Iron additives that degrade and lose curing energy faster than Standard Medium Pressure Mercury UV lamps. They are typically replaced every 650 hours.
Request a Customized ROI Study
AMS performs dozens of ROI studies on behalf of customers each month, and has proven models that we can prepare and deliver to you for further analysis. If you would like to request a complimentary NO COST Return on Investment (ROI) study and/or contact from an AMS representative, please start by completing the form below. To help speed our response, please include as much information as possible about your existing process. We will have a knowledgeable representative contact you as soon as possible.
To speak to a representative, please call us at +1-715-425-5600 (US Central Time) or email us at info@airmotionsystems.com.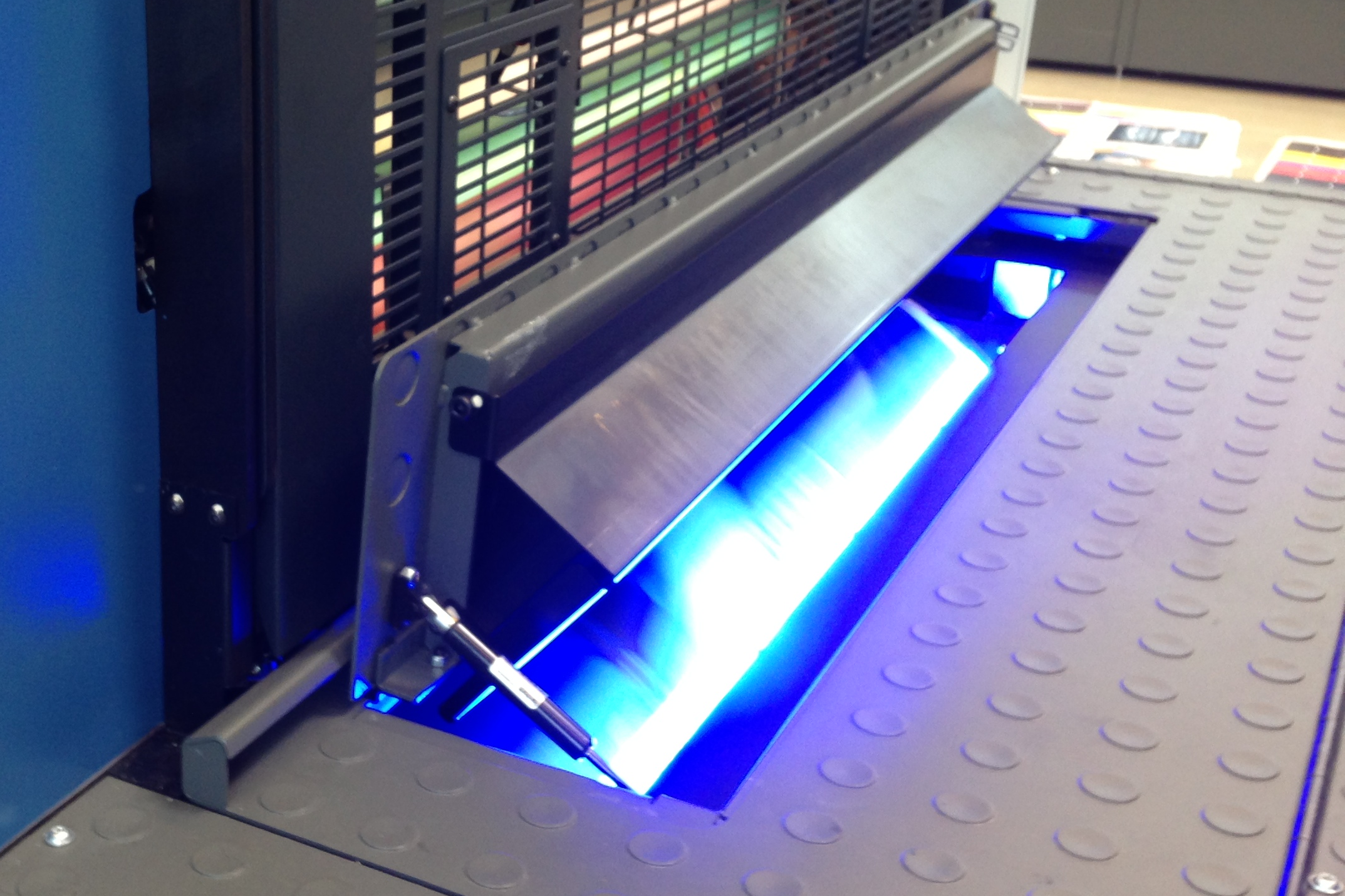 AMS Peak LED-UV XP Series Systems are rapidly changing the landscape of sheetfed offset printing around the world. Instant energy curing at low cost is now a reality. Because of their unique features, AMS LED UV systems have been installed on more types of offset presses than any other UV LED technology.